Pilgrim's Social Action activities are led by Susan Levine
Monthly activities include: Donations collected from our generous congregation are distributed to local partner organizations. On the first Sunday of each month, nonperishable food is collected for the food pantry at Greater Birmingham Ministries. Every third Sunday, snacks and drinks (and periodically hygiene items) are collected and packed in bags for distribution to the homeless through Highland United Methodist Church. Thank you Brian Bland and Eric Nelson for your help with snack bags. On the second Friday of each month, Pilgrim prepares dinner for the men at Firehouse Shelter. Thank you Ralph Grady and John Williams for spearheading this program.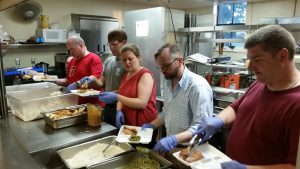 In an effort to better understand the community concerns of Pilgrims and to generate new social action projects, a series of small group meetings were held in the home of Pastor Paul and Bill Eknes-Tucker. These lively discussions indicated that Pilgrims are committed to advocating for social justice, assisting people in poverty, improving the environment and supporting animal rights.
After the 2016 elections Pilgrim's Social Action team put our faith into action both in Washington and in Birmingham.