Pilgrim Social Action
At Pilgrim Church, we believe in justice, equality and respect for all people. In addition to our food donations, dinner preparation and support of Firehouse, Greater Birmingham Ministries and Highlands United Methodist Church programs for the homeless, we are involved in the following activities. You are all invited and encouraged to participate.
FAITH IN ACTION – an organization of faith communities from across Alabama committed to correcting injustice in the state, specifically concerning the racism of mass incarceration. There are four local "hubs" in each of Alabama's main cities. Learn more about Faith in Action at https://fiaal.wordpress.com
Faithful Resistance Convention – From Mobile, Huntsville, Montgomery, and Birmingham, over 1000 people attended the convention held April 21. Nearly 300 postcards were sent to Governor Ivey asking her to help dismantle our state's system of mass incarceration. Pilgrim members were among those attending and sending postcards.
Join us in May and June for these activities:
Birmingham Local Hub Meeting– Thursday, May 11, 5:15 p.m. – 7:30 p.m.- (Supper – 5:15 p.m. and Session – 5:45 p.m.) at Sardis Missionary Baptist Church – 1615 4th Court W.
Vigil at the Courthouse to raise awareness of the mass incarceration issue in Jefferson County and in Alabama – Sunday – May 21, 2:00 p.m. – Jefferson County Courthouse – 801 Richard Arrington Jr. Blvd. N.
Movie Screening of 13th– The week of June 12 we view the Netflix documentary "13th" to raise awareness about how mass incarceration is the New Jim Crow. First United Methodist Church – 518 19th St. N.
Rally in Montgomery – On June 17th, we will have a state-wide rally at Alabama's State House in Montgomery tohonor Juneteenth, and to protest the fact that our state has the fifth-highest incarceration rate in the world
PRIDEFEST – Pilgrim will once again be participating in Pridefest 2017 held June 2-11 at Sloss and the Pride Parade on June 10. In past years we have had a booth at Pridefest and members walked with our Pilgrim banner in the parade.
Save the dates! More details about our participation will follow. Learn more about Pridefest at the website http://www.centralalabamapride.org
To volunteer, to donate or for more information please contact Susan Levine or Pastor Paul.
Pilgrim's Social Action activities are led by Susan Levine
Monthly activities include: Donations collected from our generous congregation are distributed to local partner organizations. On the first Sunday of each month, nonperishable food is collected for the food pantry at Greater Birmingham Ministries. Every third Sunday, snacks and drinks (and periodically hygiene items) are collected and packed in bags for distribution to the homeless through Highland United Methodist Church. Thank you Brian Bland and Eric Nelson for your help with snack bags. On the second Friday of each month, Pilgrim prepares dinner for the men at Firehouse Shelter. Thank you Ralph Grady and John Williams for spearheading this program.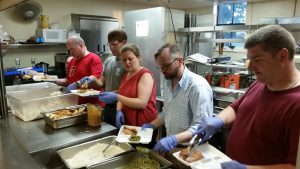 In an effort to better understand the community concerns of Pilgrims and to generate new social action projects, a series of small group meetings were held in the home of Pastor Paul and Bill Eknes-Tucker. These lively discussions indicated that Pilgrims are committed to advocating for social justice, assisting people in poverty, improving the environment and supporting animal rights.
After the 2016 elections Pilgrim's Social Action team put our faith into action both in Washington and in Birmingham.