Pilgrim Social Action
At Pilgrim Church, we believe in justice, equality and respect for all people. In addition to our food donations, dinner preparation and support of Firehouse, Greater Birmingham Ministries and Highlands United Methodist Church programs for the homeless, we are involved in the following activities. You are all invited and encouraged to participate.
Southside Congreational Association – this multifaith group of Christian, Muslim, Jewish and Bahai faiths brings together clergy and faith leaders from across the Southside of Birmingham to speak to injustices in our community, develop partnerships across denomination lines and encourage cooperation between faith communities to be more effective in speaking to the challenges of our neighborhoods and community.
LGBTQ Equality – Pilgrim has supported the inclusion of the LGBTQ in all aspects of the community — from marriage equality to challenging hate crimes to encouraing employment opportunities to meaningful conversations across divided communities. Pilgrim is an active supporter and participant in Pridefest and Birmingham AIDS Organizations community activities and events.
To volunteer, to donate or for more information please contact Pastor Paul.
Pilgrim's Social Action hosts monthly events that allow our congregation to make a difference in the challenges created by privilege and inequality.
These monthly activities include: Donations collected from our generous congregation are distributed to local partner organizations. On the first Sunday of each month, nonperishable food is collected for the food pantry at Greater Birmingham Ministries. Every third Sunday, snacks and drinks and hygiene items are collected and packed in bags for distribution to the homeless through Highland United Methodist Church. Thank you Brian Bland and Eric Nelson for your leadership with snack bags. On the second Friday of each month, Pilgrim prepares dinner for the men at Firehouse Shelter. Thank you  John Williams for spearheading this program.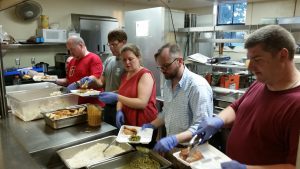 After the 2016 elections Pilgrim's Social Action team put our faith into action both in Washington and in Birmingham.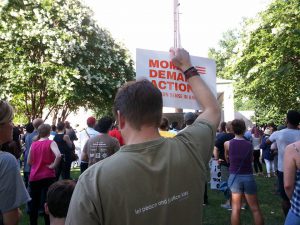 We're always looking for new ways to make a difference in Birmingham and beyond. If you have ideas, please see Pastor Paul.