Pilgrim Social Action
At Pilgrim Church, we believe in justice, equality and respect for all people. In addition to our food donations, dinner preparation and support of Firehouse Shelter, Pilgrim hosts a Houseless Ministry which provides daily essentials for those in our neighborhood who don't have a home. Volunteers are always welcome
Southside Faith Communities – this multifaith group of Christian, Muslim, Jewish and Bahai faiths brings together clergy and faith leaders from across the Southside of Birmingham to speak to injustices in our community, develop partnerships across denomination lines and encourage cooperation between faith communities to be more effective in speaking to the challenges of our neighborhoods and community.
LGBTQ Equality – Pilgrim has supported the inclusion of the LGBTQ community in all aspects of congregational life — from marriage equality to challenging hate crimes to encouraging employment opportunities to meaningful conversations across divided communities. Pilgrim is an active supporter and participant in Pridefest and Birmingham AIDS Organizations community activities and events.
To volunteer, to donate or for more information please contact Pastor Paul.
On the second Friday of each month, Pilgrim prepares dinner for the men at Firehouse Shelter. Thank you, John Williams, for spearheading this program.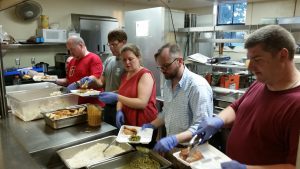 Since the 2016 elections Pilgrim's Social Action team put our faith into action both in Washington and in Birmingham.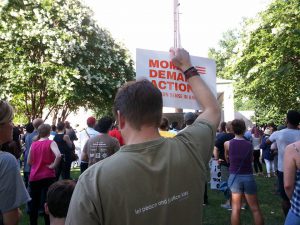 We're always looking for new ways to make a difference in Birmingham and beyond. If you have ideas, please see Pastor Paul.